Radical Love, Race, and Feminist Futures ~ The Feminist Wire concluded its 10-day Forum on Race, Racism, and Anti-Racism Within Feminism
On May 1, 2013, Brooke Elise Axtell with Monica J. Casper, Heather Laine Talley, and Aishah Shahidah Simmons concluded The Feminist Wire's (TFW) 10-day Forum on Race, Racism, and Anti Racism Within Feminism with their Radical Love, Race, and Feminism article.
…We are called to be fiercely honest, compassionate, and gracious in our discourse. Radical love can hold our rage, our sadness, and our grief over the ways we have failed each other, and may continue to fail each other. Without love, we remain fractured beyond measure.
In closing, we want to offer an opening; that is, our Forum has been as much about forging dialogue as it has been about trying to locate lived experiences. Over the past ten days, this collection of essays, visual art, poetry, creative nonfiction, and love notes has functioned as an invitation to think critically and to act ethically, to recognize our structural locations, and to innovate new ways of living as allies and practicing community.
As part of our commitment to continuing this dialogue about race, racism, and anti-racism within feminisms, we will continue to publish works that engage our deepest concerns as a collective. We invite you to share your insights with us as we explore more of this fertile and volatile terrain…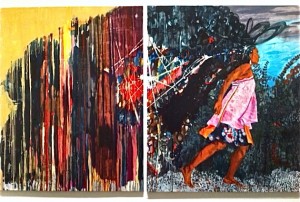 Painting by Mequitta Ahuja
Radical Love, Race, and Feminist Futures includes links to every single article, love note, poem, interview, and visual artwork that was featured in the Forum. If you missed some of the featured pieces or would like to refer to them in the future, you may do so by clicking here.
TFW's co-founder and managing editor Tamura A. Lomax said, "[the Forum] was the most diverse critical discourse on this subject/life matter to date." She continues, "And yes, I'm quite thrilled that it happened at TFW. The issue(s) re: race within (and without) feminism is not black and white, nor is it simply gray. In actuality it's quite colorful. And if we've learned nothing else this past week and a half, we know there's still lots of work ahead. And, we ALL have work to do."
The Forum's lead editor Heidi Renée Lewis, in concert with the team of co-editors (Aimee Meredith Cox, Heather Laine Talley, Alexis Pauline Gumbs, Hakima Abbas, Tamura A. Lomax, Monica Casper, Omar Ricks, Shubra Sharma, and Aishah Shahidah Simmons), compassionately and lovingly worked together virtually across multiple time zones in the United States and internationally in Africa and South Asia often while simultaneously on the road, teaching, lecturing, mothering, partnering, conferencing, and dealing with unexpected life altering personal, familial, and professional life crises. Just when many wanted to throw in the towel and forgo the conclusion other than say, "That's all folks! Take care," Brooke Elise Axtell, picked up the ball and helped everyone carry it across the finish line.
The power of the compassionate, loving, and selfless TFW Collective can never be denied.